Prisoners Building Homes Programme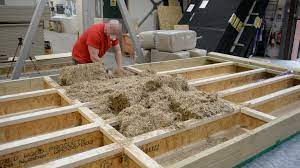 The Prisoners Building Homes Programme is led by the South West Reducing Reoffending Partnership, working in partnership with the One Public Estate Programme and West of England Combined Authority.
It was set up to enable prisoners to be employed and trained by modular housing providers to build low carbon, modular homes for local communities and vulnerable people across the South West.
It provides an opportunity to reduce reoffending by ensuring prisoners have the skills they need to help secure employment upon their release.
In March 2021 the Programme delivered a proof of concept home on a Torbay Council owned site, funded by the Police and Crime Commissioner for Devon, Cornwall and the Isles of Scilly. This home was constructed by prisoners at a prison workshop at HMP Leyhill and assembled on site with the assistance of a Probation client.
Following the success of this pilot, at the end of 2021 the Programme was awarded £250,000 of One Public Estate revenue funding to develop a framework which enables public sector organisations across the South West to easily access high quality, low carbon modular homes constructed and assembled by prisoners and ex-offenders.
In April 2022 the Programme was launched, and during 2022 the framework was established, which included a technical support team, financial modelling, a Delivery Partner model, and a Procurement framework.
The Programme is currently working on delivering 54 units across 8 sites (including a £2 million bespoke Residential Women's Centre in Bristol (for women with complex needs at risk of custody)).
The ambition is to set up production in 10 of our South West prison workshops (employing 100+ prisoners each year) and providing full time employment on day release for another 40+ prisoners a day, with the prospect of post release employment for all prisoners involved in the Programme.
Find out more by watching this video.
Click here to read the Briefing document.
Click here to see the Public Sector Client Handbook which explains the Programme in more detail.
For more information on the Programme please email Sophie Baker at sophie.baker@dc-pcc.gov.uk