PCC Tony Hogg welcomes further reduction in recorded crime - down 11% during his term of office
Recorded crime across Devon and Cornwall has reduced by 11% during Police and Crime Commissioner Tony Hogg's term of office.
Comparing total recorded crime for the 12 month period to the end of December 2015 to the 12 month period to the end of December 2012. This represents nearly 10,000 fewer crimes per year in 2015 compared to 2012. As a result, the risk of being a victim of crime has reduced substantially.
This good performance has been driven by consistent reductions in acquisitive crime. For example burglary and theft offences have reduced by nearly a quarter (22%) during the Commissioner's term of office, while public order offences have reduced by 16%.
 
These results have driven performance in Devon & Cornwall up the national league tables from a low point of 12th in June 2013 to 3rd in December 2015. In addition the Devon & Cornwall force area now ranks 1st on the national measure of public confidence in local policing.
 
Following the Commissioner's challenge to the Chief Constable in October 2013 the police have responded strongly to the challenges presented by low level crime while maintaining a focus on detecting and preventing harm.
 
"As I prepare to leave office, this is very good news", said Tony Hogg.
 
"While we live and work in one of the safest places in the UK, the pressure to maintain and improve this is immense. Considering the financial constraints that still face policing, it is testament to the dedicated work of our officers and staff alongside partners and our local communities."
 
"There is a danger that excellent results such as this can hide an underlying position where resources are being stretched further and further. That is why we fought so hard for fairer funding for Devon and Cornwall  – a fight that I am sure my successor as PCC will continue."
 
"Although I will celebrate this excellent news, we simply cannot carry on attempting to do more for less."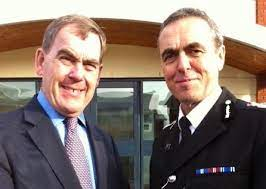 The data released today supports the view that Devon & Cornwall have continued to respond well to the challenges they face, delivering further improvements on those reported previously. Indeed in many areas performance in Devon & Cornwall is bucking national trends with reductions in shoplifting, criminal damage and public order offences set against an increasing trend in these categories.
 
Total crime is reported to have reduced by 5% in Devon and Cornwall against a national position of 8% increase in the last 12 months.
 
Devon & Cornwall are one of only two forces in England & Wales to have reported a reduction in crime in this period. City of London Police have also reported a reduction although they are not included in the ranking tables due to the outlying nature of their data.
 
The Force's overall position in the national league table maintained its good position of 3rd with the rate of offending per 1000 population further reduced to 45 offences per 1000.
 
Only Dyfed-Powys and North Yorkshire are reporting lower rates of crime.
 
The main drivers of this improvement are increases in violence against the person (9%) in Devon & Cornwall that are considerably less than the rate of increase for England and Wales (27%) and continuing good performance across the spectrum of acquisitive crime and especially in relation to serious acquisitive crime (burglary and vehicle offences). Reductions in all other theft offences (13%), public order offences (8%), shoplifting (12%), criminal damage (7%) have also contributed to the good performance.
 
Points to note:
 
The latest reported public confidence data indicates that the public of Devon & Cornwall has the highest rate of confidence in the police nationally.
 
Overall the Force continues to have the 2nd lowest rate of theft nationally.
 
Overall the Force is ranked the 2nd lowest for domestic burglary and ranked the 3rd lowest for vehicle crime.
 
Violence with injury has increased by 7% in Devon and Cornwall compared with a national increase of 15%. A re-focus regarding the recording of offences under the Dangerous Dog Act (1991) has contributed to increases in violence with injury offences.
 
Offending rates in both categories of violent crime remain below the national average in Devon and Cornwall.
 
Although Devon and Cornwall continues to rank in the middle of the table nationally for violence against the person continuing previous reports of a shift away from the highest rates of violent crime. Indeed the slower rate of increase in relation to violence without injury has left Devon & Cornwall currently ranked 14th lowest for violence without injury nationally. Despite this, violent offending remains a concern in Devon & Cornwall.
 
Rises in violent offending will also be influenced by increased domestic abuse reporting.
 
A similar shift in rank is also apparent in relation to sexual offences (Devon and Cornwall currently ranks middle of the table nationally). Although the number of recorded offences in Devon & Cornwall continue to increase (13%) the rate of increase is less that that seen nationally (29%). We have listened to partner agencies that provide support to victims of sexual abuse to understand the extent to which the increase reflects improved confidence in victims to come forward and report to the police. Feedback has suggested that more victims are indeed coming forward. Potential drivers of this include improvements in victim's service provision, the 'Savile' effect where high profile media cases influence reporting among victims and increases in reported domestic violence related sexual abuse. We continue to acknowledge this increase as a positive trend and to challenge the police to ensure that victims receive a high standard of support.
 
The Force has continued to respond strongly to the additional demand on police resources from the large number of summer visitors to Devon and Cornwall. There was a 5.6% reduction in the number of offences recorded between June and September 2015 compared to the previous year. This is particularly encouraging given the strong performance in 2014 and the low baseline this has derived from. More proactive deployment strategies aimed at targeting known hotspots coupled with more effective resource management have been credited with this improvement.
 
Violence continues to show a significant increase, albeit at a much lower rate than apparent elsewhere. Violence without injury offences have increased by 11% in Devon and Cornwall compared to 38% in England and Wales overall. This increase in Devon & Cornwall is due to the addition of four new categories of offending that relate to online harassment to the home office counting rules.
 
The OPCC continues to work with the police and partner agencies to build a deeper understanding of the issues and to support information sharing to prevent offending and to address the root causes.
 
The continued focus on the quality of crime recording is likely to have prompted improved compliance with national standards in some police forces, leading to more crimes being recorded than previously. This is thought to have particularly affected the police recorded figures for violence against the person, sexual offences and public order offences.
 
It is possible to speculate that some part of the improvement in relative performance in Devon & Cornwall is due to other Forces tightening up their crime recording processes.
 

(1) Comparing total recorded crime for the 12 month period to the end of December 2015 to the 12 month period to the end of December 2012.
 
(2) City of London Police have also reported a reduction although they are not included in the ranking tables due to the outlying nature of their data.